Nucor's Ground Breaking Ceremony In Lexington
Slide
NUCOR of Lexington GroundBreaking Ceremony
NUCOR of Lexington GroundBreaking Ceremony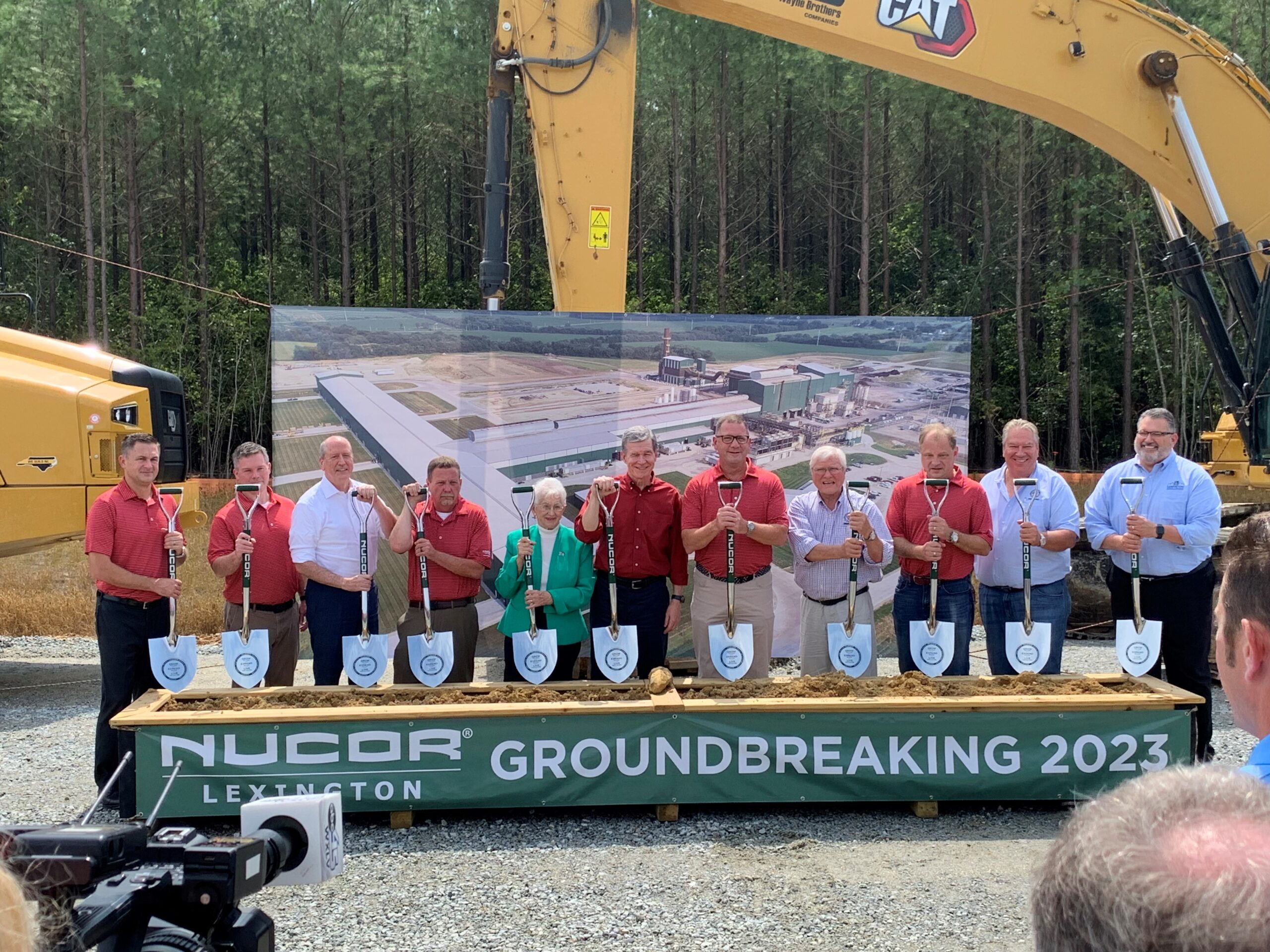 North Carolina Governor, Roy Cooper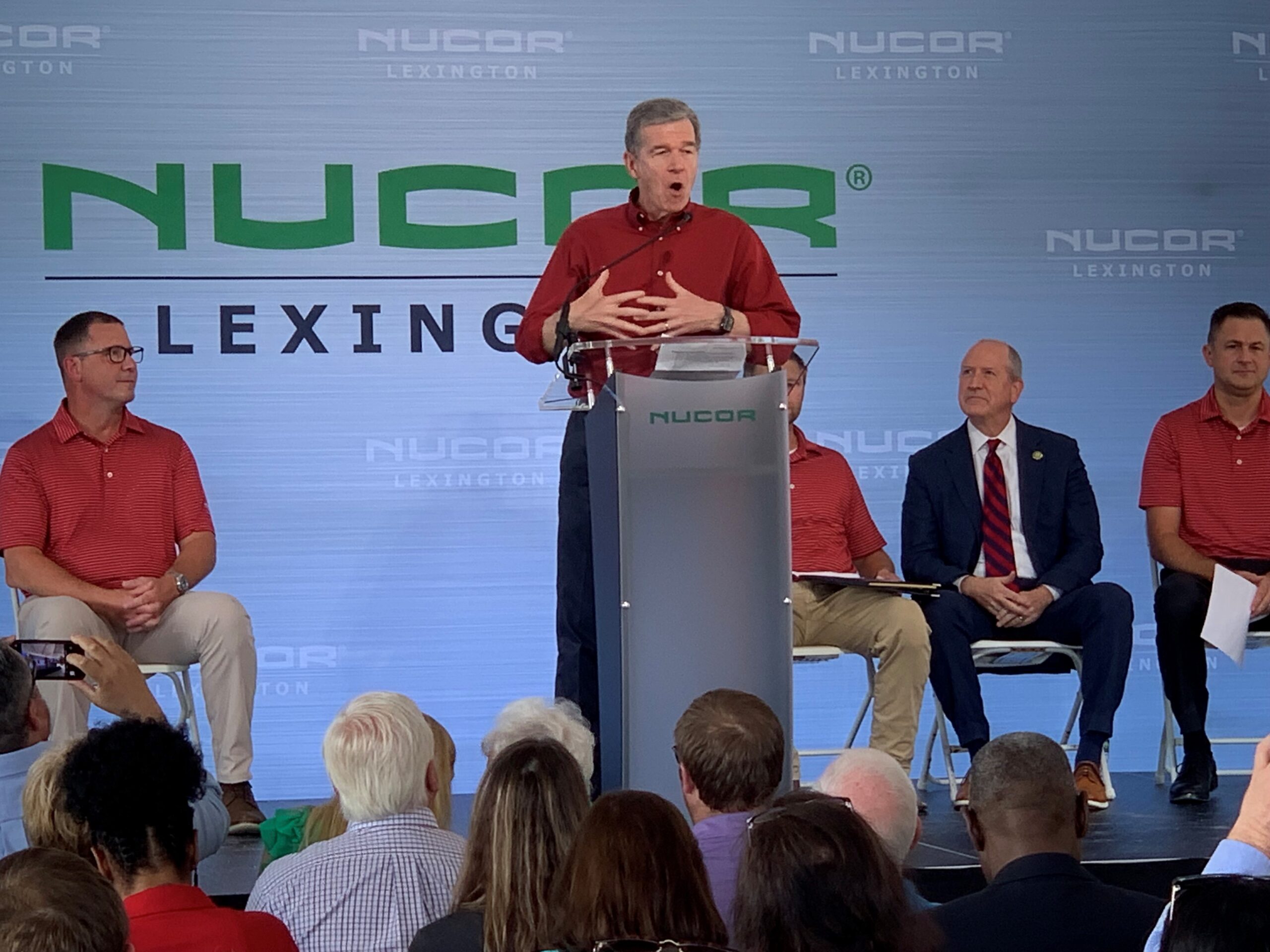 NUCOR President and CEO, Leon Topalian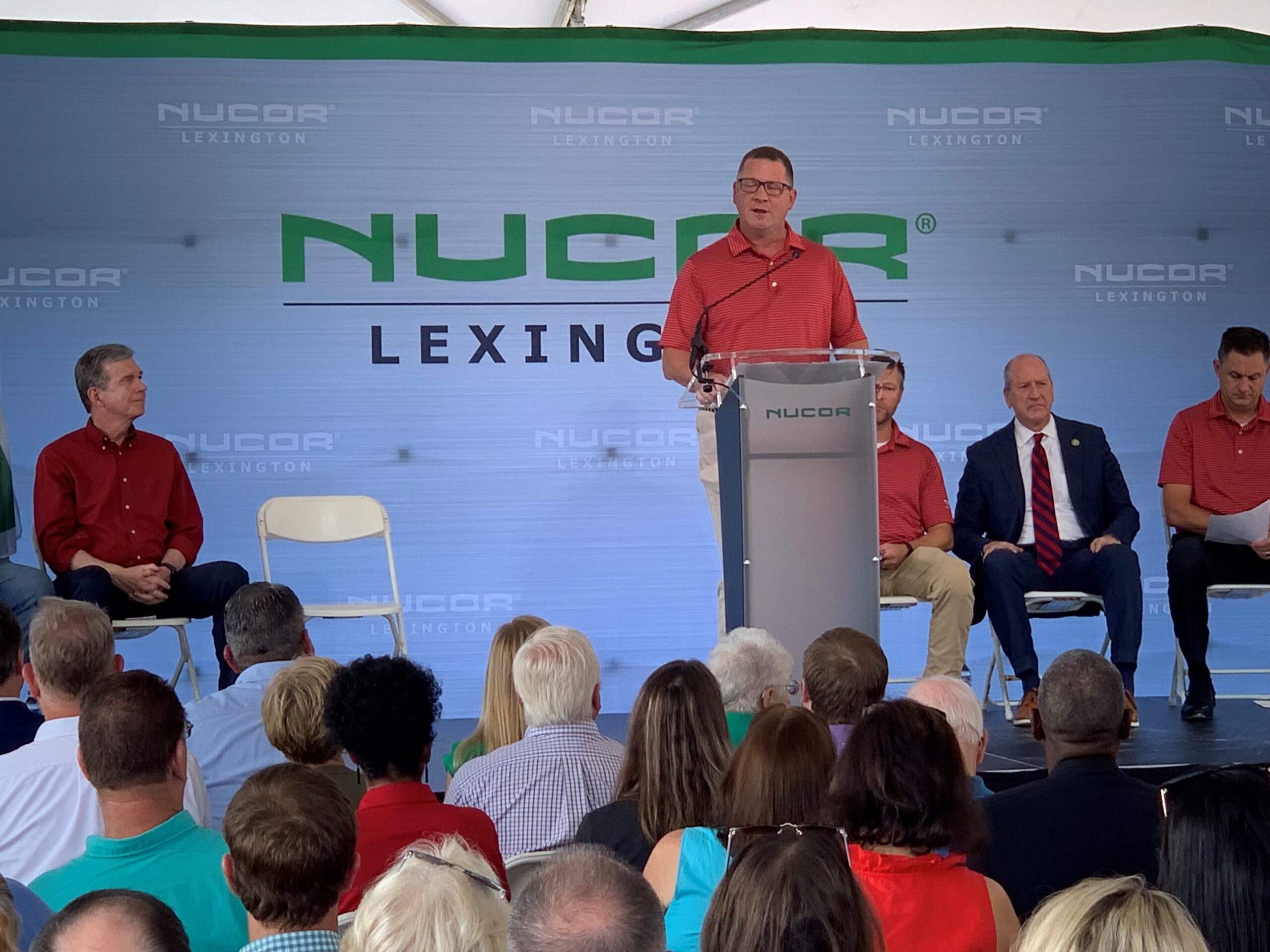 Lexington Native and NUCOR's Chief of Public Affairs and Government Relations, Ben Pickett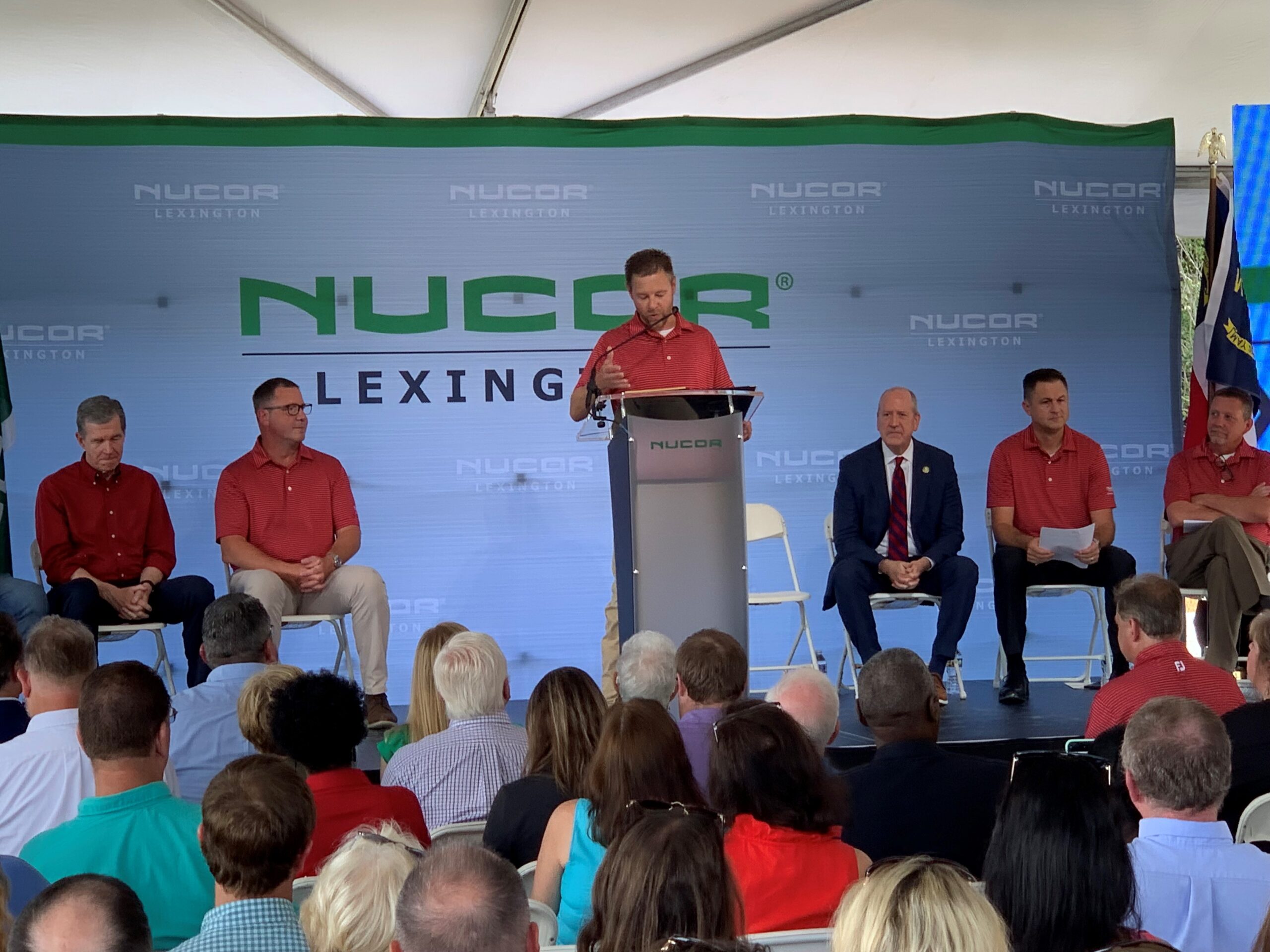 NUCOR Plant General Manager, Mike Hess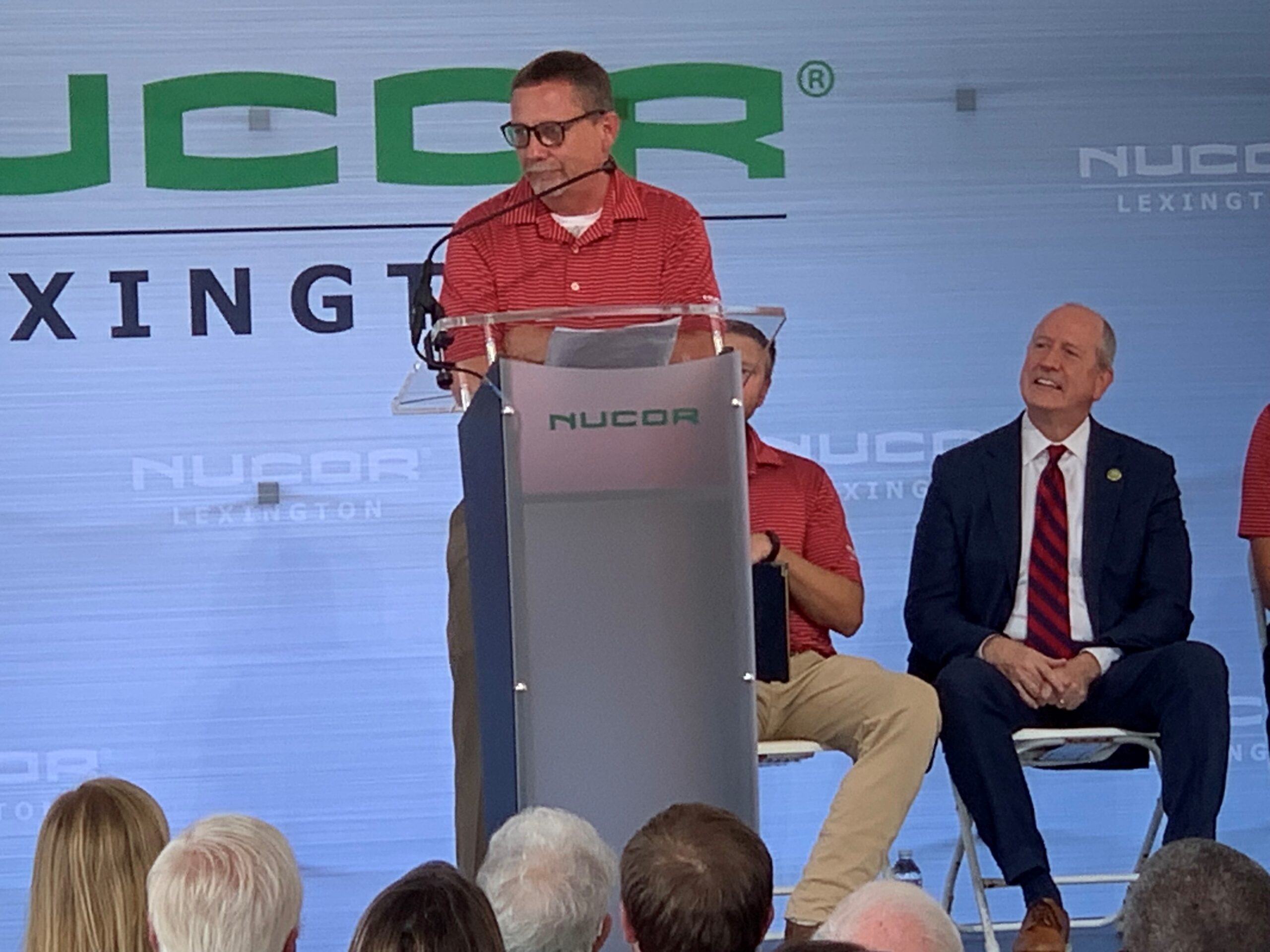 Nucor's Ground Breaking Ceremony
On August 25th, 2023, Nucor held a groundbreaking ceremony with local, state, and federal officials attending. Nucor's corporate and local executives pledged to not only create at least 180 jobs by the end of 2025, but also to honor the community's deep manufacturing heritage with a long-term commitment to the plant and community.
Several Nucor speakers described the Lexington project as a great fit via culture, logistical, and workforce perspectives, stating that "Lexington shares many of the values that are important to us at Nucor – family, trust, and teamwork – and the Lexington community has gone above and beyond making us feel at home.". To expand upon this, The executive vice president for Nucor's bar, engineered bar, and rebar fabrication products, John Hollatz, underlined Nucor's meticulous hiring process. Hollatz, emphasized Nucor's objective of fostering a lifelong commitment among those chosen to be part of the Nucor team, "it is with the intention that they stay with the company until retirement, as Nucor sees it as a lifelong commitment.".

Hollatz also shined light on what made Nucor choose Lexington, North Carolina over Dillon, South Carolina and Suffolk, Virginia – stating, "Nucor seeks states and communities that are committed for the long-term. This was a significant factor in choosing Lexington over the others for the project at hand.".
Siemens Mobility Inc. recently commencing construction on its $220 million Lexington plant. The plant aims to employ 506 individuals and will specialize in producing passenger rail cars.
Discussing the shared vision between Nucor and Siemens, Leon Topalian, the President and CEO of Nucor, emphasized their mutual recognition of the benefits of operating in Lexington. Furthermore, they are optimistic about the potential for increased business opportunities arising from recent infrastructure legislation driven by the Biden administration and approved by Congress. Given that the Washington-to-Atlanta corridor is one of the nation's fastest growing regions, the new federal spending for infrastructure, is expected to boost demand for rebar in the area.
Topalian shared some exciting prospects for the semiconductor industry in the United States, underscoring the remarkable value of over $370 billion in ongoing and planned projects. These endeavors present significant opportunities across different domains, such as active involvement in the construction of cutting-edge manufacturing facilities. Looking ahead – there is a strong emphasis on fortifying our infrastructure by investing in critical areas such as roads, bridges, highways, and hospitals. Our goal is to establish a state-of-the-art infrastructure grid which can meet the demands of a rapidly evolving world. Moreover, a concerted effort is underway to promote sustainability and combat climate change. By harnessing zero-carbon electricity and championing the production of clean, recycled steel, businesses can play a pivotal role in reducing carbon emissions and fostering a greener supply chain.
Governor Roy Cooper of North Carolina commended Nucor's dedication, highlighting it as a prime instance of effective collaboration among local, state, and federal authorities. He emphasized the significance of Nucor's expansion in Davidson County, stating the company's enthusiasm to demonstrate their commitment as a responsible corporate entity. Governor Cooper also highlighted the importance of supporting local industries, expressing his desire to promote North Carolina steel in all economic development initiatives in the state.
Craver, Richard. "Nucor Pledges Long-Term Manufacturing Commitment to Lexington at Plant Groundbreaking." Winston-Salem Journal, 25 Aug. 2023, journalnow.com/news/local/business/development/nucor-pledges-long-term-manufacturing-commitment-to-lexington-at-plant-groundbreaking/article_b85c7930-434f-11ee-95c0-ab162f4d9322.html.